Below is the current price of silver. Please refresh this page to continually update the chart during trading hours.

Over 3 decades of buying and recycling scrap litho film, and refining silver flake for silver recovery.

Scrap litho Film Pricing....Fri Aug 22nd  film price was $2.33/lb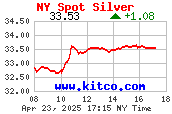 Our method for pricing scrap silver bearing litho film negatives is as follows:

We pay you for 12 troy oz. of silver for every 100 lbs of film received or .12 troy oz/lb. Film will be priced on the New York close on the day the film is received.

For example, if the New York Silver close is $20.00,

.12 troy oz./lb X $20/troy oz. = $2.40 for each pound of scrap negative film received.

We pay for the net weight of the film received.

Checks are sent within five business days of receipt of film at our facility.

Please view our 
quality and shipping guidelines
 before shipping your film. Be sure to enclose a letter including your exact mailing address and stating who  the check is to be made out.